Posts for: February, 2018
By Fresh Smiles Dental
February 17, 2018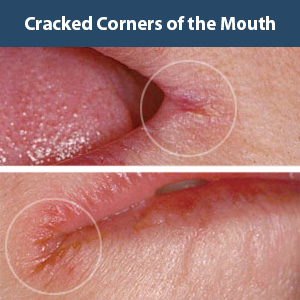 As dentists, we often see other mouth problems besides those with teeth and gums. One of the most common is cracking around the corners of the mouth. Although usually not serious, it can be irritating and uncomfortable.
Medically known as angular cheilitis (literally "an inflammation of the angles of the lip"), it's also called perleche, derived from the French lecher, "to lick." The latter moniker aptly describes the tendency of sufferers to compulsively lick the sores to relieve irritation, which actually can make things worse.
Perleche has a number of possible causes, mostly from in or around the mouth (although systemic diseases or medications can cause it on rare occasions). It's often found among younger people who drool during sleep or older people with deep wrinkles along the sides of the mouth that increase the chances of dryness and cracking. Long-term wind or cold exposure, ill-fitting dentures or a lack of back teeth (which help support facial structure) may also contribute to the condition.
Patients with perleche can also develop yeast infections from a strain called candida albicans. The infection can spread through the whole mouth, significantly increasing the chances of physical discomfort.
Treating perleche often involves topical ointments with inflammation-reducing steroids and zinc oxide, which has antifungal properties, to provide an environmental barrier during the healing process. If a yeast infection occurs, we may treat it with oral or topical antifungal medication like Nystatin for the whole mouth and chlorhexidine rinses, which has antibacterial properties.
It also helps to adopt a few preventive measures that can minimize the occurrence of perleche. If you wear dentures, for example, cleaning them often (including, if necessary, with chlorhexidine) and leaving them out at night reduces bacterial and fungal growth. We can also see if your dentures are fitting properly. Replacing missing teeth provides better facial support and could minimize wrinkling around the mouth. And, of course, keeping up daily brushing and flossing helps ensure a healthy and disease-free mouth.
If you're experiencing cracked mouth corners, let us know at your next appointment. With our help and of other medical professionals we may be able to give you relief from this irritating condition.
If you would like more information on gaining relief from angular cheilitis, please contact us or schedule an appointment for a consultation. You can also learn more about this topic by reading the Dear Doctor article "Cracked Corners of the Mouth."
By Fresh Smiles Dental
February 02, 2018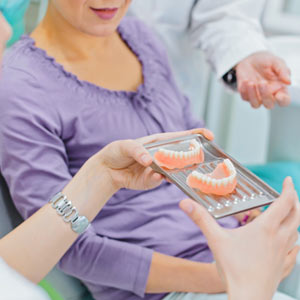 Twenty-six percent of American adults between 65 and 74 have lost all their teeth to dental disease. This isn't an appearance problem only—lack of teeth can also harm nutrition and physical well-being.
Fortunately, we have advanced restorative options that can effectively replace missing teeth. Of these, there's a tried and true one that's both affordable and effective: removable dentures.
Dentures are simple in design: a plastic or resin base, colored with a pinkish-red hue to resemble gums to which we attach prosthetic (false) teeth. But while the design concept isn't complicated, the process for creating and fitting them can be quite involved: they must conform to an individual patient's jaws and facial structure if they're going to appear natural.
If you're considering dentures, here's some of what it will take to achieve a successful outcome.
Positioning the teeth. The position of the prosthetic teeth on the base greatly determines how natural they'll appear and how well they'll function. So, we'll need to plan tooth placement beforehand based on your facial and jaw structures, as well as photos taken of you before tooth loss. We'll also consider how large the teeth should be, how far to place them forward or back from the lips, and whether to include "imperfections" from your old look that you see as part of your appearance.
Simulating the gums. While the teeth are your smile's stars, the gums are the supporting cast. It's important that we create a denture base that attractively frames the teeth by determining how much of the gums show when you smile, or adding color and even textures to better resemble gum tissue. We can also add ridges behind the upper teeth to support speech.
Balancing the bite. Upper and lower dentures don't operate in and of themselves—they must work cooperatively and efficiently with each other during eating or speaking. So while appearance matters, the bite's bite adjustment or balance might matter more. That's why we place a lot of attention into balancing and adjusting the bite after you receive your dentures to make sure you're comfortable.
This is a detailed process that we may need to revisit from time to time to make sure your dentures' fit remains tight and comfortable. Even so, modern advances in this traditional restoration continue to make them a solid choice for total tooth loss.
If you would like more information on denture restorations, please contact us or schedule an appointment for a consultation. You can also learn more about this topic by reading the Dear Doctor article "Removable Dentures."