Posts for: June, 2019
By Fresh Smiles Dental
June 16, 2019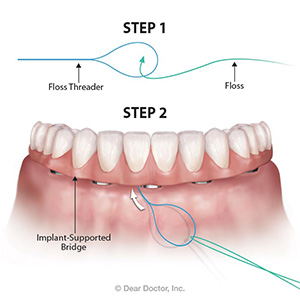 Losing teeth to tooth decay or periodontal (gum) disease is never easy. But with implant-supported bridgework, you can regain lost function and appearance with a restoration that could last for many years.
Don't think, though, that dental disease woes are a thing of the past with your new implants. Although your restoration itself can't be infected, the supporting gums and underlying bone can, often through bacterial plaque accumulating around the implants. The bone that supports the implants could deteriorate, dramatically increasing your chances of losing your restoration.
It's essential, then, that you keep the area between the bridge and gums clean of plaque through daily hygiene. This definitely includes flossing around the implants.
Flossing with an implant-supported bridge will be different than with natural teeth: instead of flossing between teeth you'll need to thread the floss between the bridge and gums. Although this is a bit more difficult, it can be done with the help of a floss threader, a device with a loop on one end and a long, thin plastic point on the other—similar to a sewing needle.
To use it, thread about 18" of floss through the loop and then pass the threader's thin end first through the space between the bridge and gums toward the tongue until the floss threader pulls through. You can then take hold of one end of the floss and then pull the threader completely out from beneath the bridge. Then, you wrap the ends around your fingers as you would normally and thoroughly floss the implant surfaces you're accessing. You then release one end of the floss, pull out the remainder, rethread it in the threader and repeat the process in the next space between implants.
You also have other hygiene tool options: prefabricated floss with stiffened ends that thread through the bridge-gum space that you can use very easily; or you can purchase an interproximal brush that resembles a pipe cleaner with thin plastic bristles to access the space and brush around the implants.
Some patients also find an oral irrigator, a handheld device that sprays a pressurized stream of water to loosen and flush away plaque, to be an effective way of keeping this important area clean. But that said, oral irrigators generally aren't as effective removing dental plaque as are floss or interproximal brushes.
Whatever flossing method you choose, the important thing is to choose one and practice it every day. By keeping bacterial plaque from building up around your implants, you'll help ensure you won't lose your restoration to disease, so it can continue to serve you for many years to come.
If you would like more information on caring for your dental work, please contact us or schedule an appointment for a consultation.
By Fresh Smiles Dental
June 06, 2019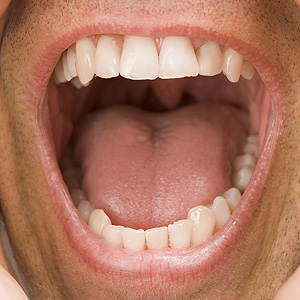 We often don't realize how important something is until it's gone. Like saliva: you're usually not aware that it's cleaning the mouth, neutralizing mouth acid or helping with digestion. But that could change if your saliva flow drops below normal: your health may soon suffer with your mouth taking the brunt.
In particular, reduced saliva flow increases your risk for tooth decay and periodontal (gum) disease. Both diseases are linked to oral bacteria. While many of the myriad strains in the mouth are beneficial, a few bacteria can infect and inflame gum tissues. Bacteria also produce acid, which can soften and erode enamel and make the teeth more susceptible to decay.
Saliva inhibits bacteria in a number of ways. It first clears the mouth of leftover food so not as much stays behind to form bacterial plaque, a thin film of food particles that builds up on teeth. You still need to brush and floss daily to remove plaque, but it's less effective without saliva's cleansing action. Saliva also contains antibodies that destroy disease-causing bacteria and other organisms, which keeps their populations in the mouth low.
One of saliva's most important functions, though, is buffering acid. The mouth's ideal pH level is neutral, but many foods we eat can cause it to become more acidic. Even a slight acidic rise after eating can soften the minerals in enamel. But saliva goes to work immediately and usually restores normal pH within a half hour to an hour. It also aids in re-mineralizing the enamel.
For these reasons, it's important for you to find out the cause of chronic dry mouth and treat it. If it's a side effect of your medication, talk to your doctor about an alternative, or drink more water before and after you take your dose. Certain products can also stimulate saliva flow, like chewing gum with xylitol, an alcohol-based sweetener that has dental health-protecting properties too.
Although you often don't notice this unsung bodily fluid swishing in your mouth, it's important that you take care of it. Keeping your saliva flowing will help ensure better oral health.
If you would like more information on the importance of saliva to health, please contact us or schedule an appointment for a consultation. You can also learn more about this topic by reading the Dear Doctor magazine article "Saliva: How it is used to Diagnose Disease."