Posts for: January, 2018
By Fresh Smiles Dental
January 18, 2018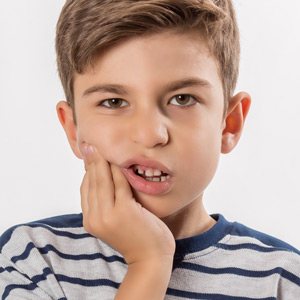 If your child has a toothache, there's good news — and not so good news. The good news is the pain rarely indicates an emergency. On the downside, though, it may definitely be something that needs our attention.
Here, then, are 4 things you should do as a parent when your child tells you their tooth hurts.
Try to find out exactly where the pain is and how long it has hurt. Ask your child which tooth or part of the mouth hurts. You should also find out, as best you can, when the pain started and if it's constant or intermittent. Anything you learn will be useful information if you bring them to the office for an examination. And, any tooth pain that keeps your child up at night or lasts more than a day should be examined.
Look for signs of recent injury. Your child may have suffered a blow to the mouth that has damaged the teeth and gums. Besides asking if they remember getting hurt in the mouth, be sure to look for chipped teeth, cracks or other signs of trauma. Even if there aren't any outward signs of injury, the tooth's interior pulp may have been damaged and should be checked out.
Look for signs of dental disease. Take a close look at the tooth your child's complaining about: do you see brown spots or obvious cavities? You should also look for swollen gums or sores on the inside of the mouth. If there's been no apparent injury, these could be signs of infection related to tooth decay.
Try to relieve pain symptoms. If you don't see anything unusual, there may be a piece of candy or other hard food debris between the teeth causing the pain — gently floss around the tooth to dislodge it. If the pain persists give appropriate doses of ibuprofen or acetaminophen (not aspirin). If there's swelling, you can also apply an icepack on the outside of the jaw. In any case, you should definitely schedule a visit with us for an examination.
If you would like more information on dental care for your child, please contact us or schedule an appointment for a consultation. You can also learn more about this topic by reading the Dear Doctor magazine article "A Child's Toothache."
By Fresh Smiles Dental
January 03, 2018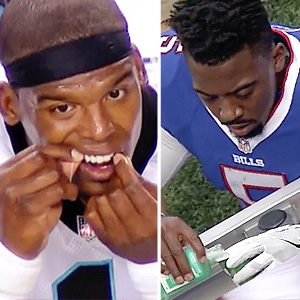 Everyone knows that in the game of football, quarterbacks are looked up to as team leaders. That's why we're so pleased to see some NFL QB's setting great examples of… wait for it… excellent oral hygiene.
First, at the 2016 season opener against the Broncos, Cam Newton of the Carolina Panthers was spotted on the bench; in his hands was a strand of dental floss. In between plays, the 2105 MVP was observed giving his hard-to-reach tooth surfaces a good cleaning with the floss.
Later, Buffalo Bills QB Tyrod Taylor was seen on the sideline of a game against the 49ers — with a bottle of mouthwash. Taylor took a swig, swished it around his mouth for a minute, and spit it out. Was he trying to make his breath fresher in the huddle when he called out plays?
Maybe… but in fact, a good mouthrinse can be much more than a short-lived breath freshener.
Cosmetic rinses can leave your breath with a minty taste or pleasant smell — but the sensation is only temporary. And while there's nothing wrong with having good-smelling breath, using a cosmetic mouthwash doesn't improve your oral hygiene — in fact, it can actually mask odors that may indicate a problem, such as tooth decay or gum disease.
Using a therapeutic mouthrinse, however, can actually enhance your oral health. Many commonly available therapeutic rinses contain anti-cariogenic (cavity-fighting) ingredients, such as fluoride; these can help prevent tooth decay and cavity formation by strengthening tooth enamel. Others contain antibacterial ingredients; these can help control the harmful oral bacteria found in plaque — the sticky film that can build up on your teeth in between cleanings. Some antibacterial mouthrinses are available over-the-counter, while others are prescription-only. When used along with brushing and flossing, they can reduce gum disease (gingivitis) and promote good oral health.
So why did Taylor rinse? His coach Rex Ryan later explained that he was cleaning out his mouth after a hard hit, which may have caused some bleeding. Ryan also noted, "He [Taylor] does have the best smelling breath in the league for any quarterback." The coach didn't explain how he knows that — but never mind. The takeaway is that a cosmetic rinse may be OK for a quick fix — but when it comes to good oral hygiene, using a therapeutic mouthrinse as a part of your daily routine (along with flossing and brushing) can really step up your game.
If you would like more information about mouthrinses and oral hygiene, contact us or schedule a consultation.